Upcoming ApacheCon Conferences
24th February - 2nd March, Portland, Oregon
Main Conference: 26th-28th February
As well as a Europe event, the winter of 2012/2013 will see a 2nd ApacheCon. Staying with the north-west, this time we're heading to Portland, Oregon! The conference will be in the Hilton Portland & Executive Tower. There will be a two-day session for tutorials and unconference activities on Sunday and Monday February 24/25. The conference proper will be Tuesday through Thursday, 26-28 February, and finally two days of sprinting activity on 1-2 March (Friday and Saturday. Attendance at the sprint does not require attendance at the main conference).
For more information on the event, including the Call For Papers which is currently open, please visit the conference website at http://na.apachecon.com/
Get Involved in ApacheCon
If you are interested in getting involved in helping to organise either of these two events, then please join the ApacheCon Discuss mailing list (and browse the archives to see what's already in progress). If you're interested in speaking at either event, then the CFP for ApacheCon Europe is open until Monday 13th August 2012. The CFP for ApacheCon North America 2013 will open on Monday 3rd September 2012.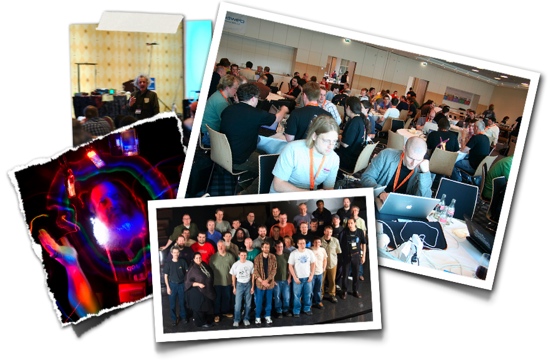 Archives of past ApacheCon Events
The Apache Software Foundation has been putting on ApacheCon events since the year 2000, and wherever possible we have kept archives of the conference sites. These are likely to only be of interest to those who attended, but they may also offer some insight and inspiration for those involved in helping with future events.
For more details on which events we have run in the past, and how to view the archive websites for them, please see the archive past conferences listing.